Note: all images are my own unless otherwise noted.
Some of the links in this post are affiliate links. This means if you click on the link and purchase the item, I will receive an affiliate commission at no extra cost to you. All opinions remain my own.
Sharing is caring!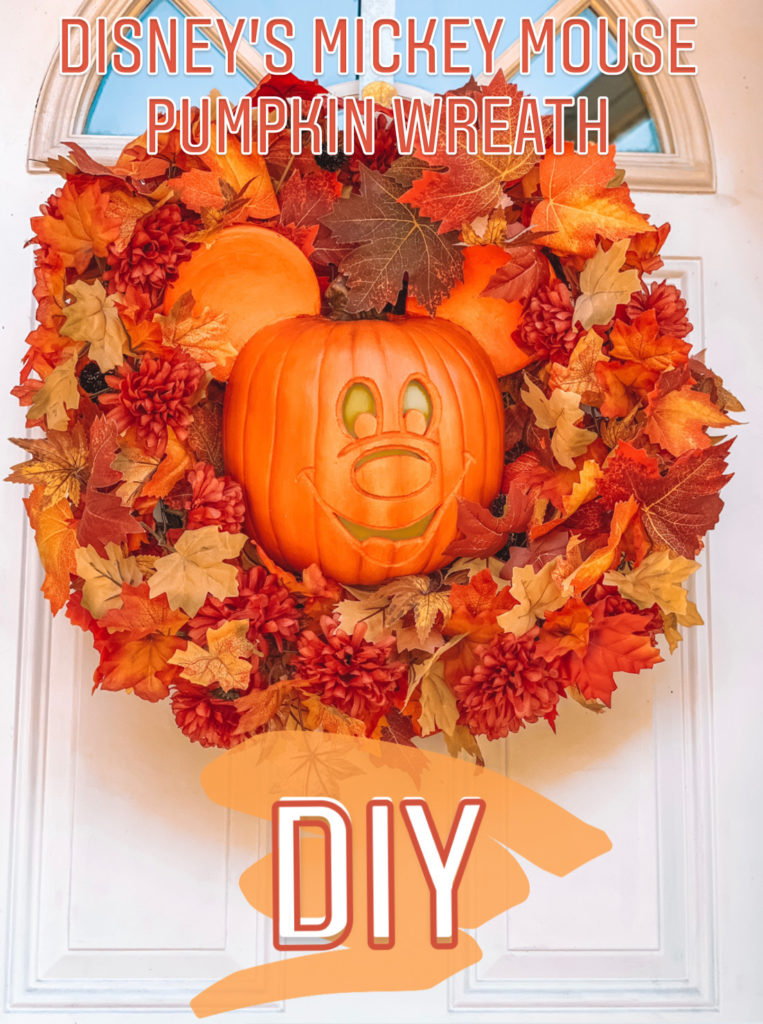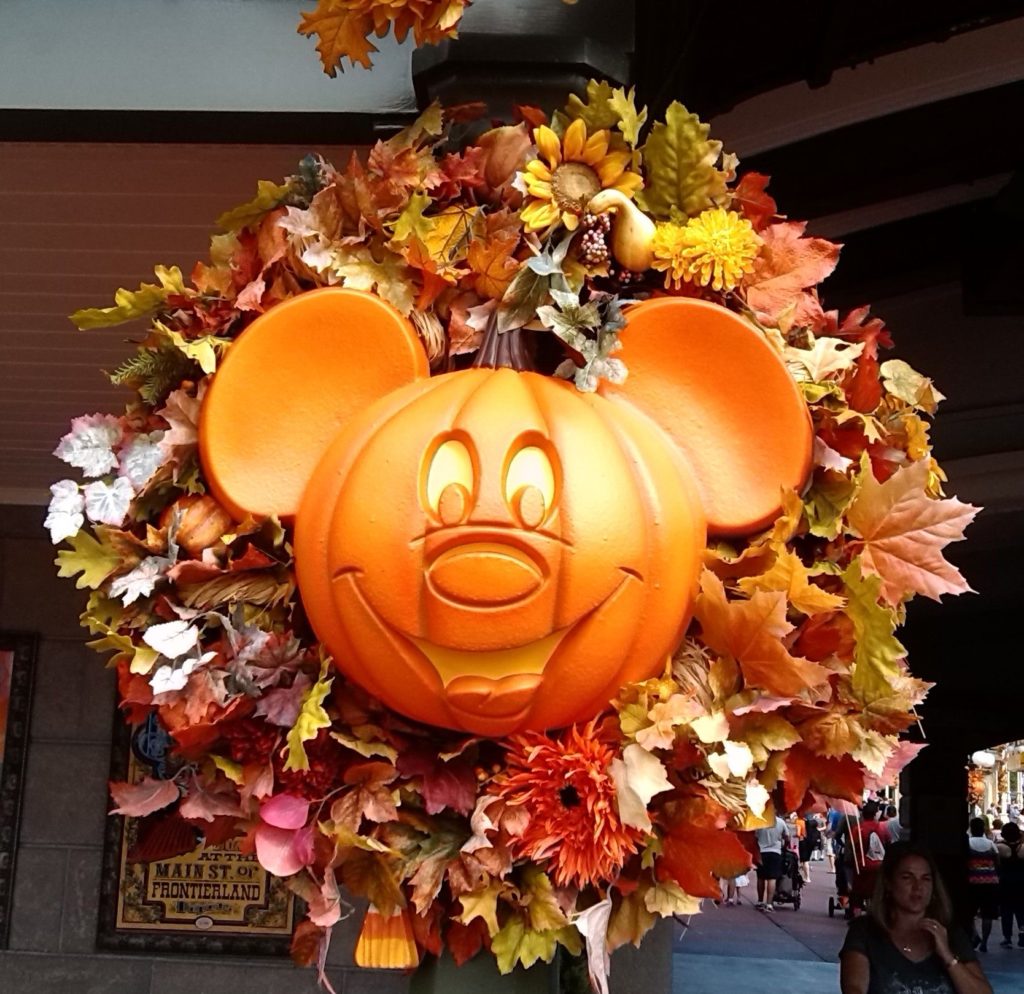 This Halloween I really wanted to bring some Disney magic to my house. My family and I went to Disney World last year (2019) for my graduation and I was just entranced by Magic Kingdom's Halloween decor, especially their Mickey Mouse Pumpkin Wreaths. I had seen a couple DIYs on how to make them, but none of them felt quite right, so I tried my own way and I am just obsessed with how it came out and I had to share. I was so excited to share that this has become my first ever blog post!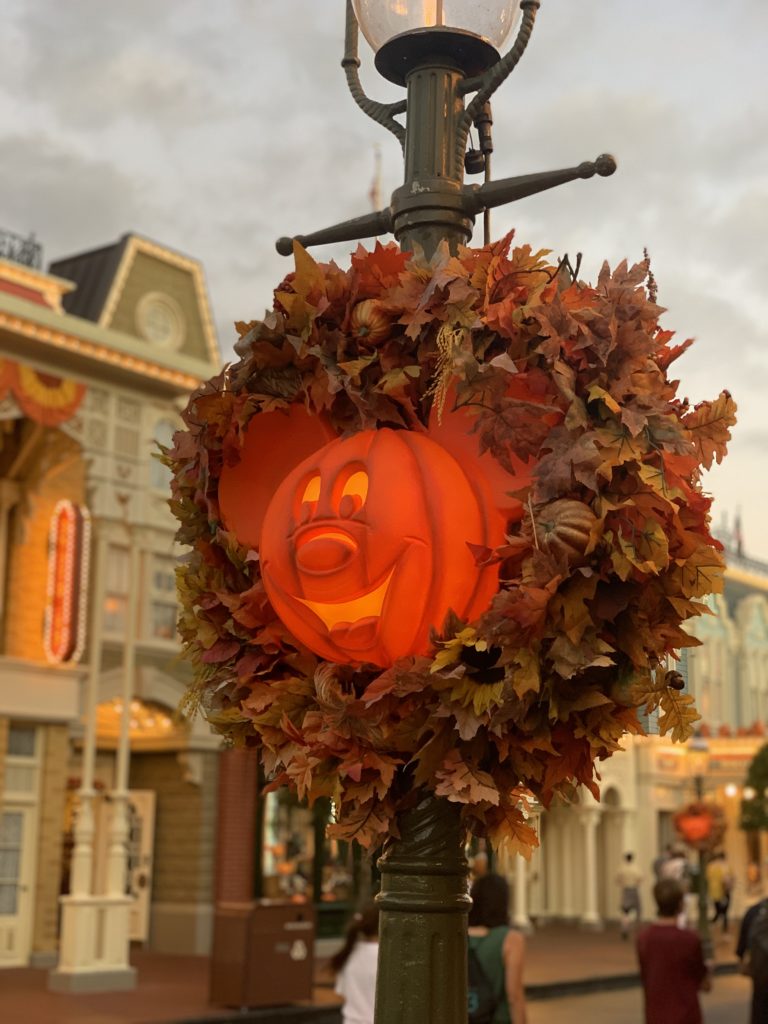 The main materials needed are a faux pumpkin, foam half spheres (or one whole foam ball), and a wreath. You can make the wreath yourself using a grapevine wreath and some floral picks. I ended up buying a wreath and garland to make it look fuller. I found this to be cheaper for me as I was able to get my materials on sale, but if its more cost effective to build your own wreath go for it!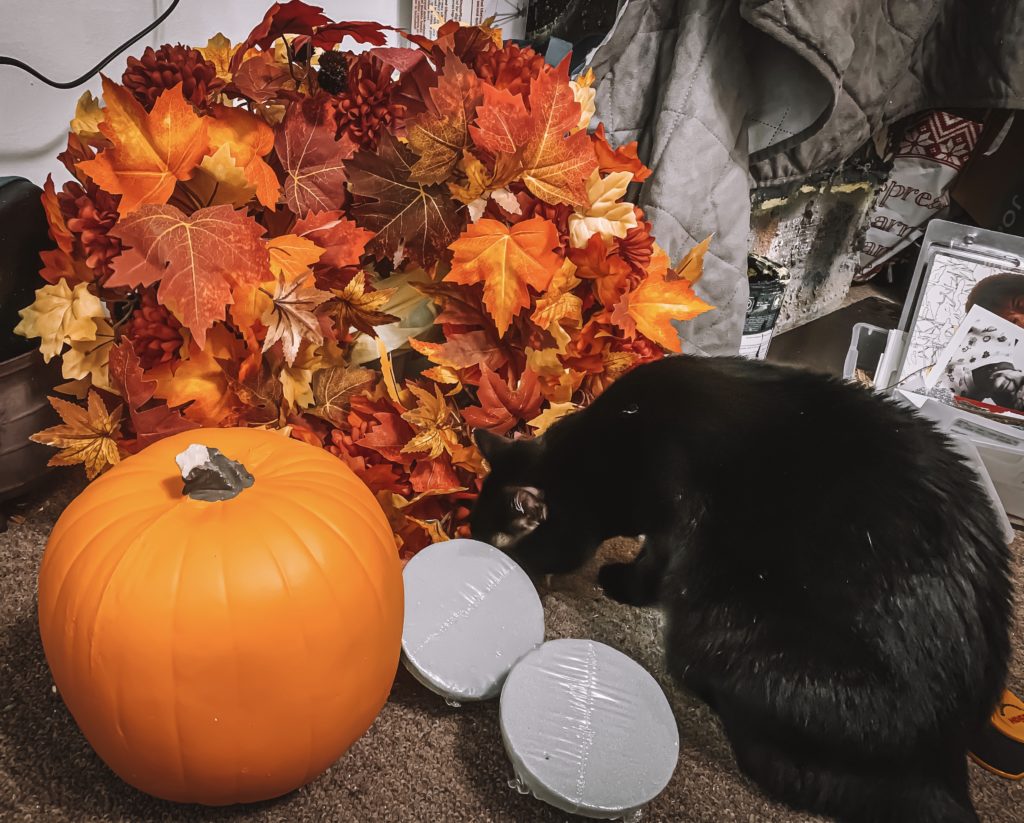 My Full Materials List:
Mickey Mouse Face template
5" foam ball (1 full sphere or 2 half spheres)
22-24" fall wreath
6' fall garland
Wooden pick
Dremel (here's a fairly affordable one with the proper attachment for this project)
Alternative Materials:
Grapevine wreath and fall floral picks (instead of store-bought wreath and garland)
Orange and yellow foam sheets (instead of plaster and glassine paper)
8-9" foam ball (instead of faux pumpkin. This is if you want it to look even more like Disney's wreaths)
PART 1: The Pumpkin Head
the first step is to print out a Face template. I had made this one really quick as I couldn't find an image of the Pumpkin face straight on or a Mickey face that was exactly like it. If you'd prefer using a different Mickey face you can Google one, but your'e welcome to use this one. The yellow gets cut all the way through, the grey is what gets carved, but does not get cut through; the black is left alone.
Next, cut the pumpkin in half. They're pretty tough to cut through so just go slow and make sure not to cut yourself. You'll also want to cut around the stem on one half, that way the entire stem is attached to the half you'll be using.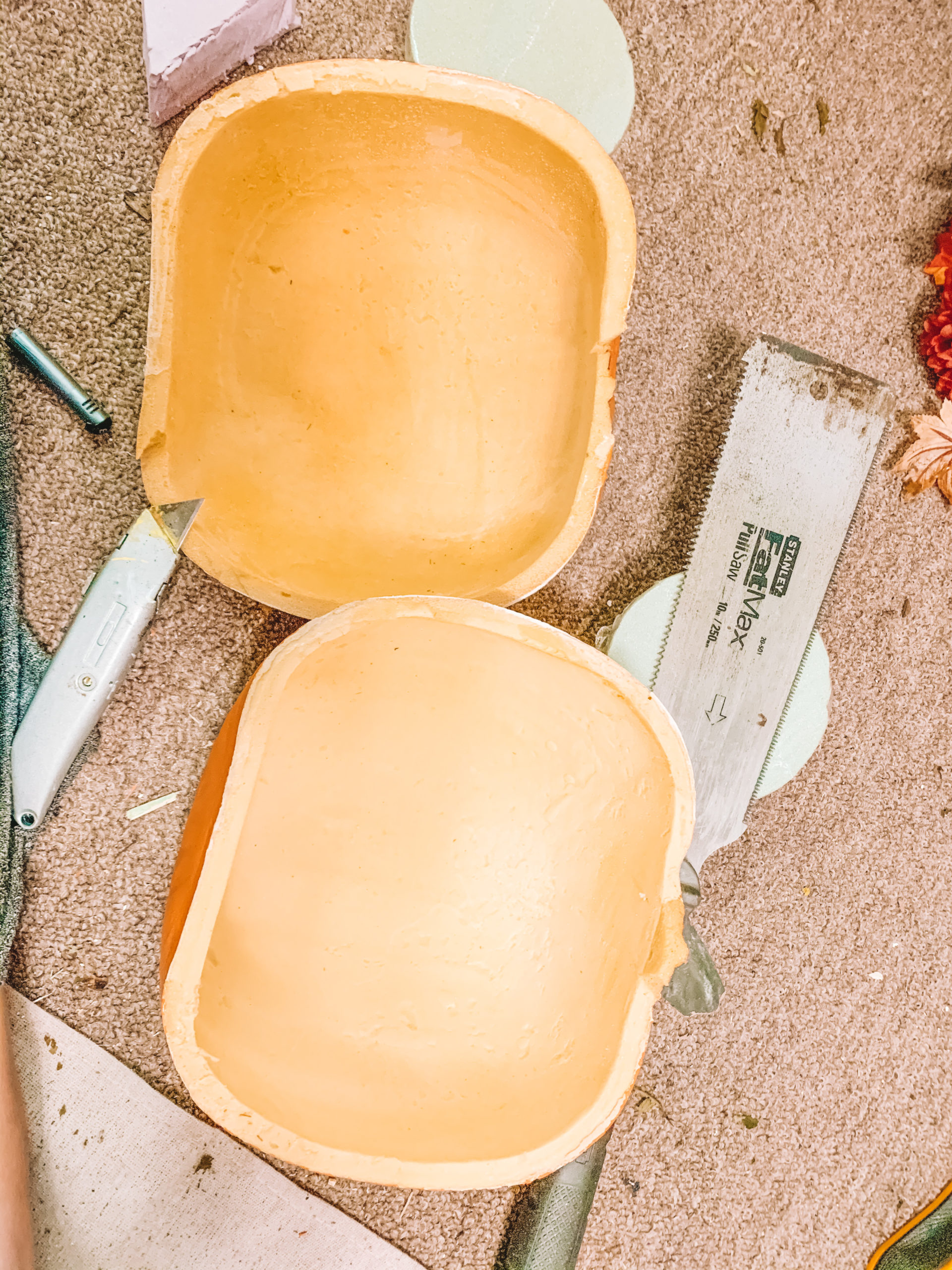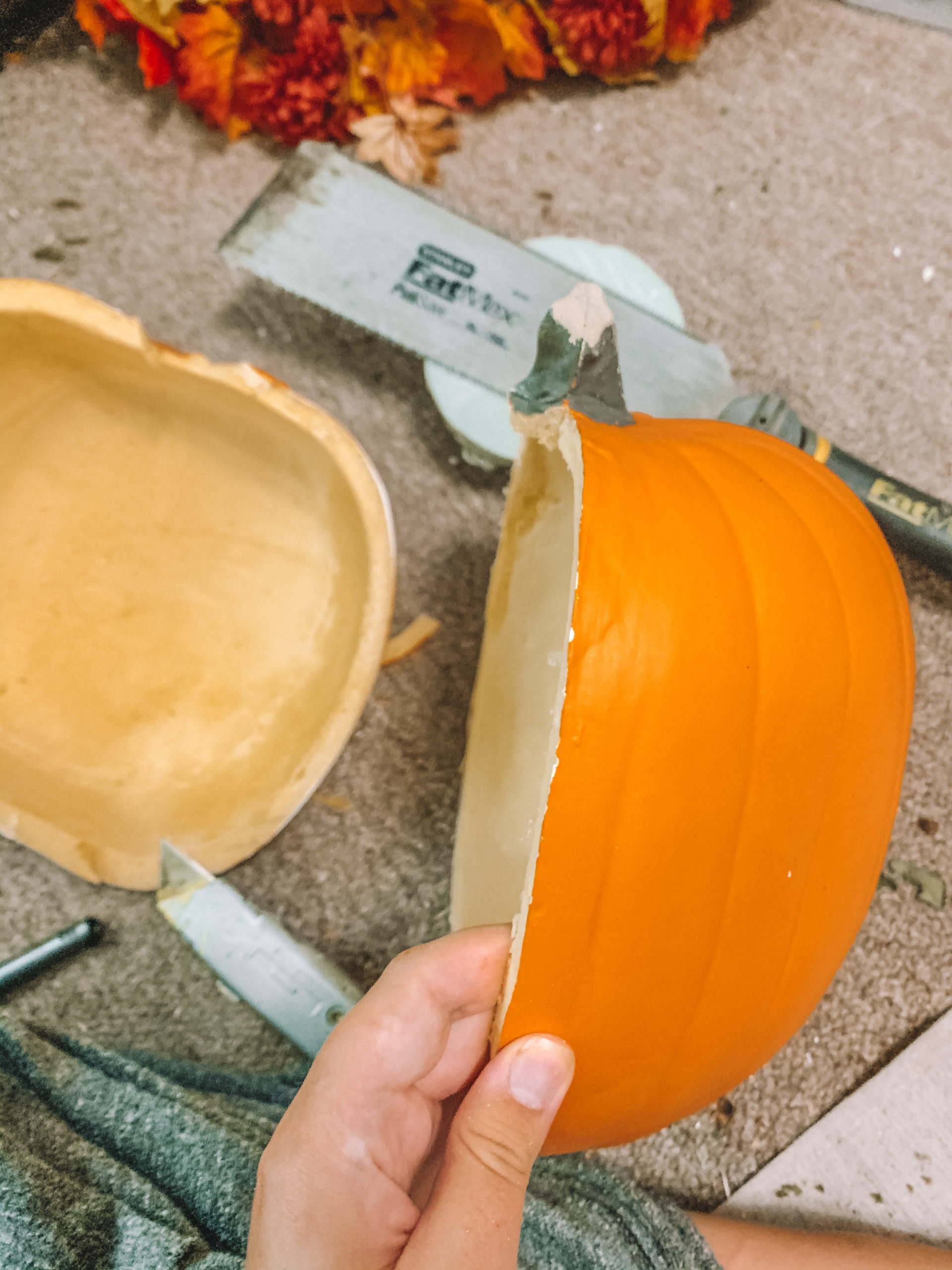 You don't have to do this, But I painted my pumpkin using a cadmium orange hue and a cadmium yellow hue. This creates depth without dulling the color. It also makes things easier down the line; blending colors and such, lol.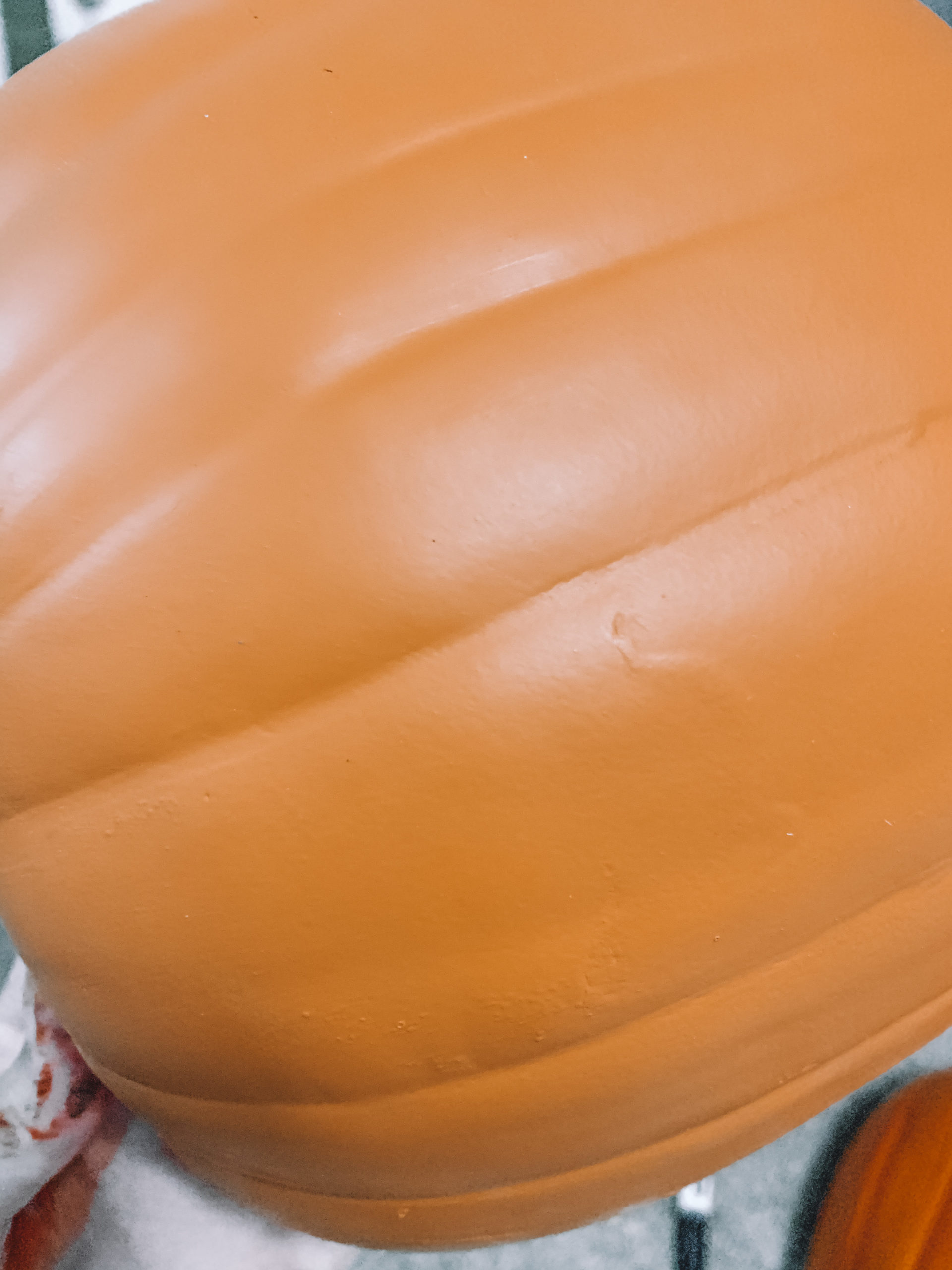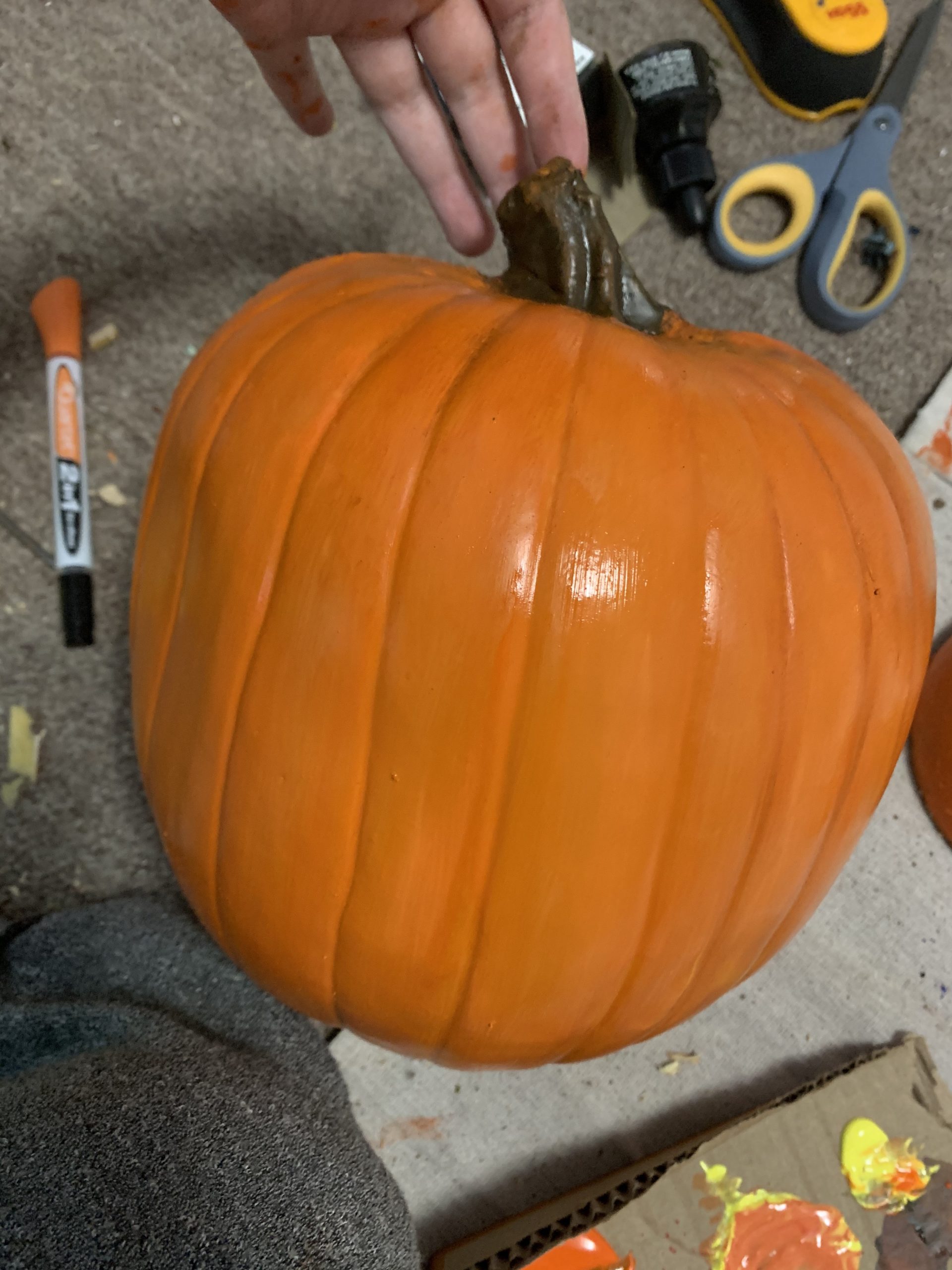 Next you'll want to tape the Mickey face Template onto the pumpkin. Then grab your wooden pick (you can also use a nail, or another sharp pointed object) and press it into the template to make small divots into the pumpkin. You don't want to press too deep, but just enough to make a mark on the pumpkin. This will transfer the image into the pumpkin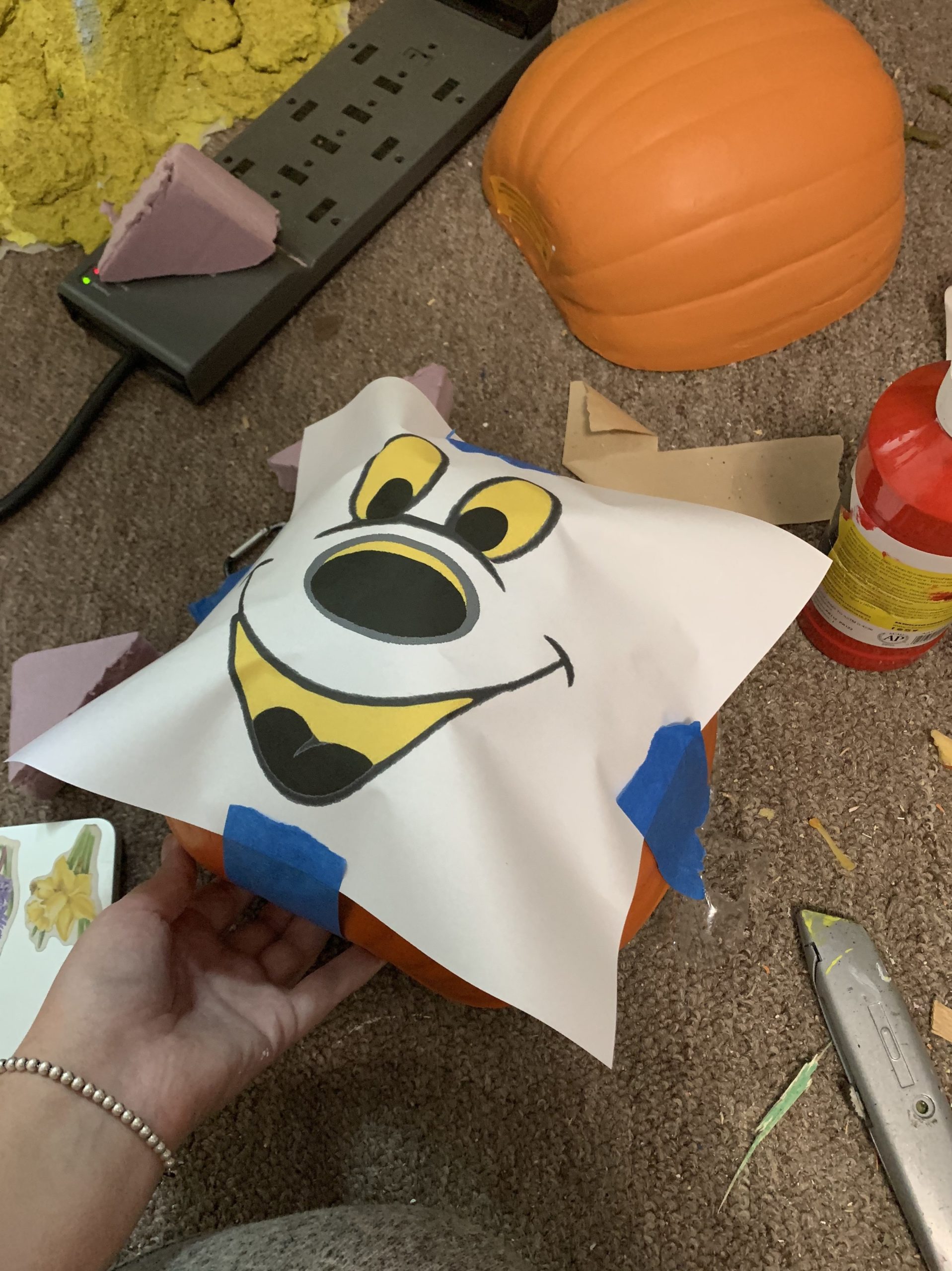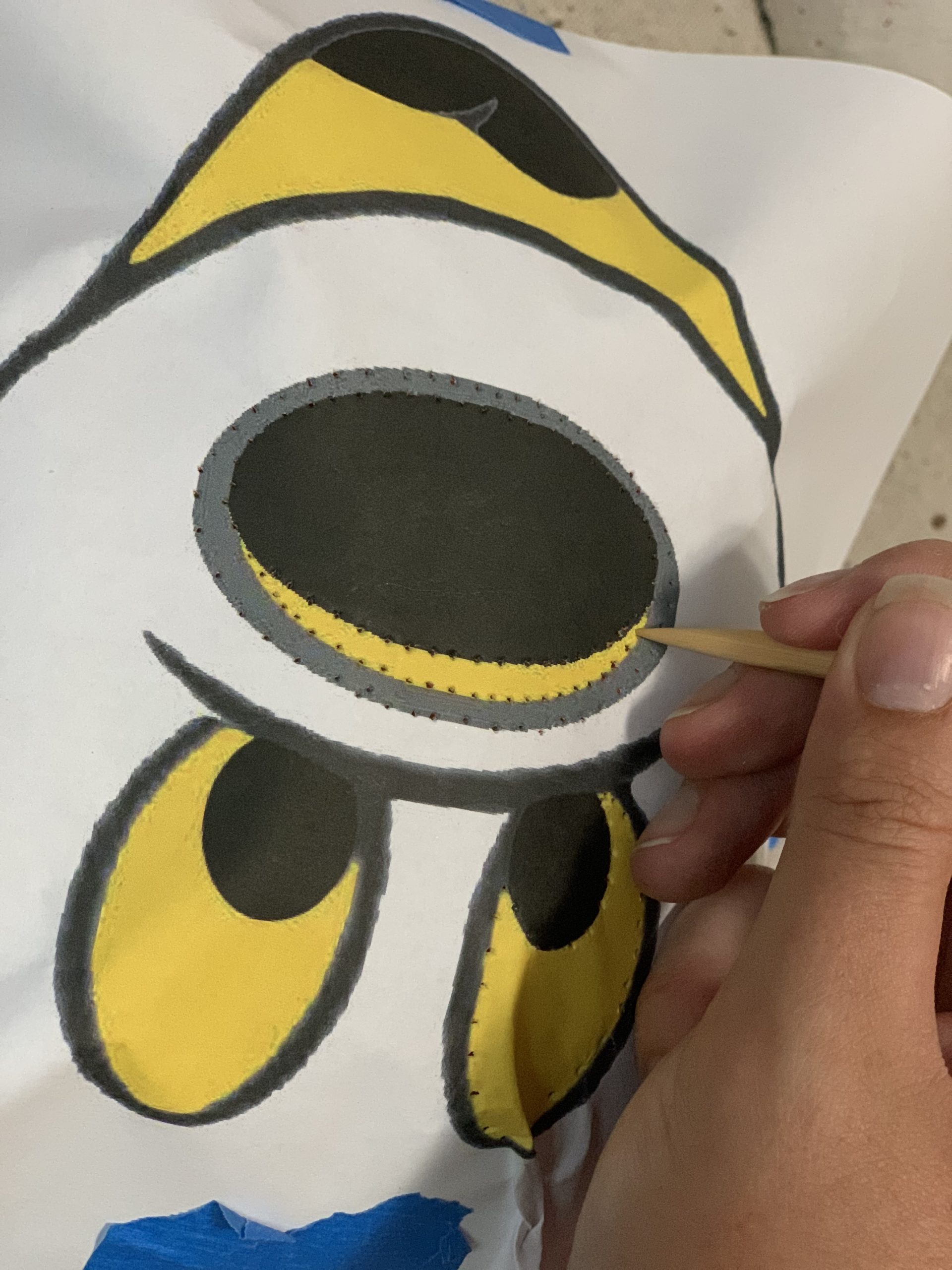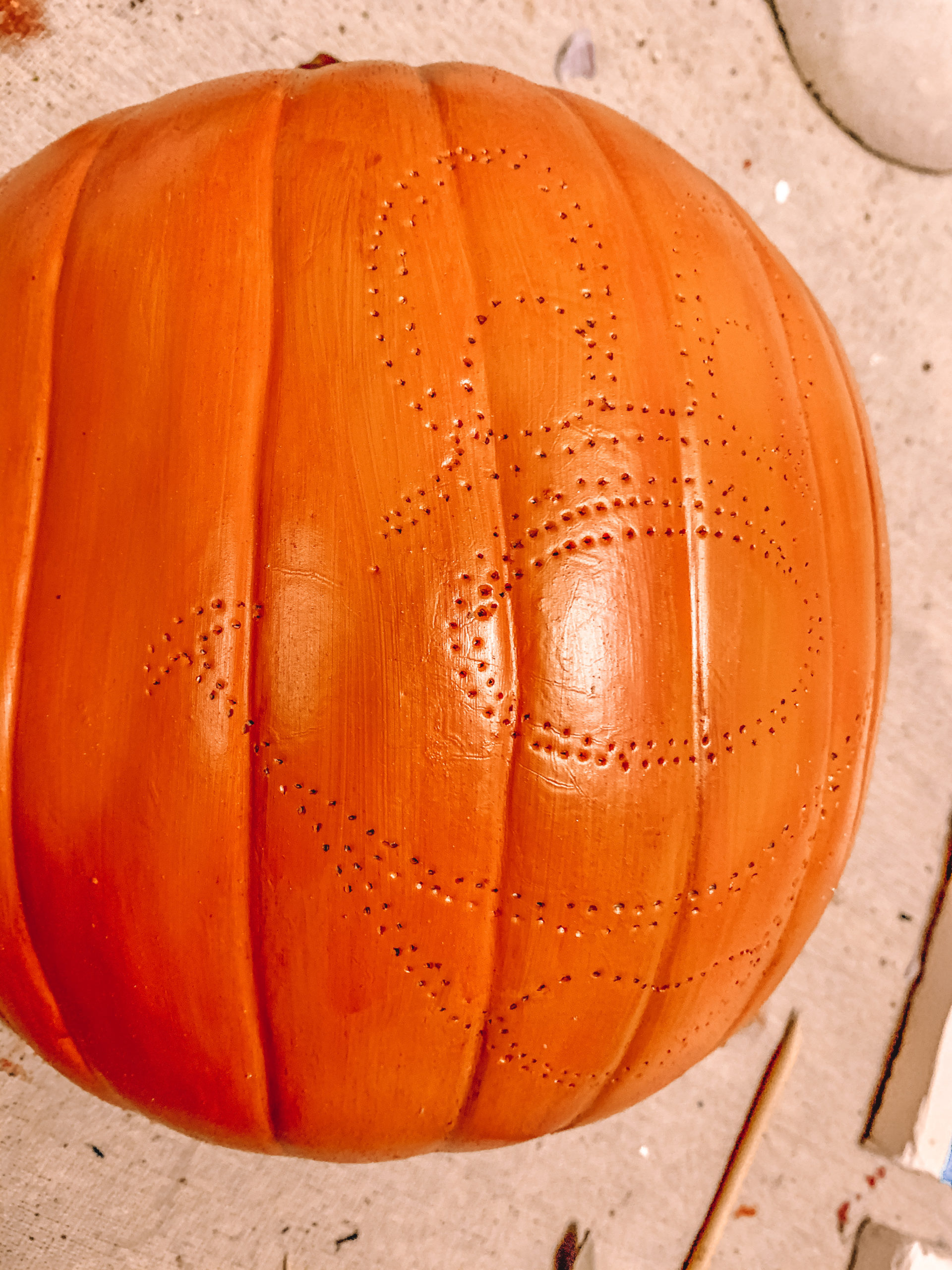 Next cut out the yellow sections. Again, go slow. This material is tough to cut.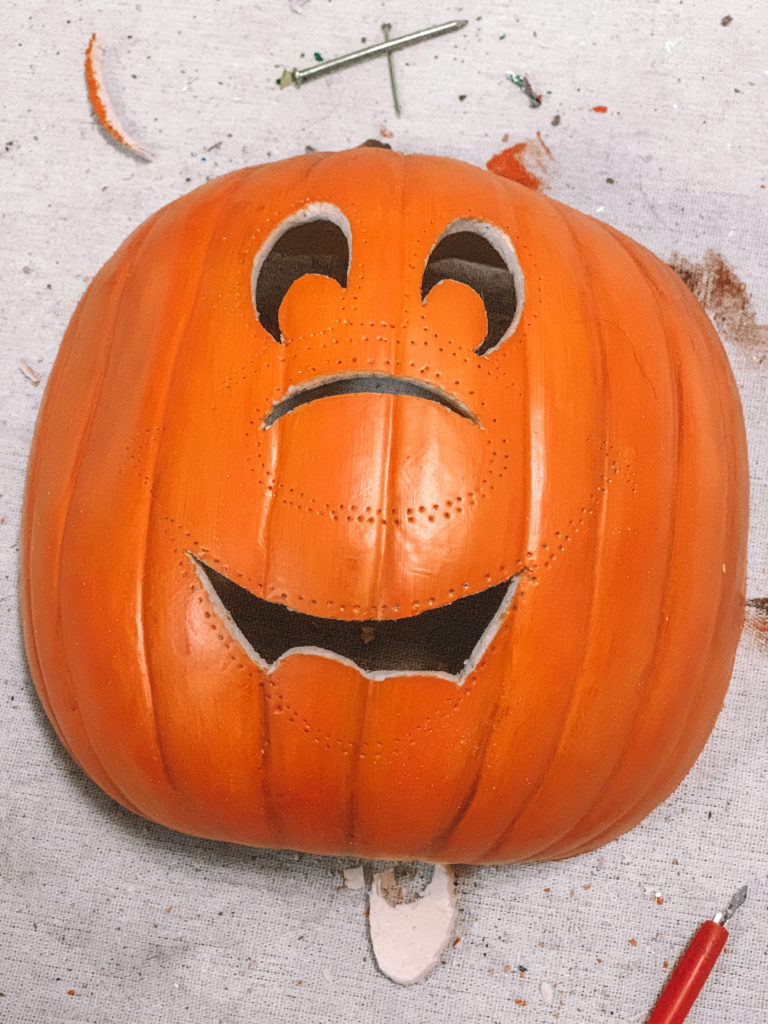 Now comes the trickier part; this will require the dremel. You'll want to use a small dremel sanding bit and slowly sand away the grey section of the template.
If this is too difficult or you don't have a dremel, you can just cut the grey section out too. Keep in mind, though, that this will remove the nose, tongue, and pupils if you follow the grey lines around them so you'll have to decide if you want to cut those out or go around them.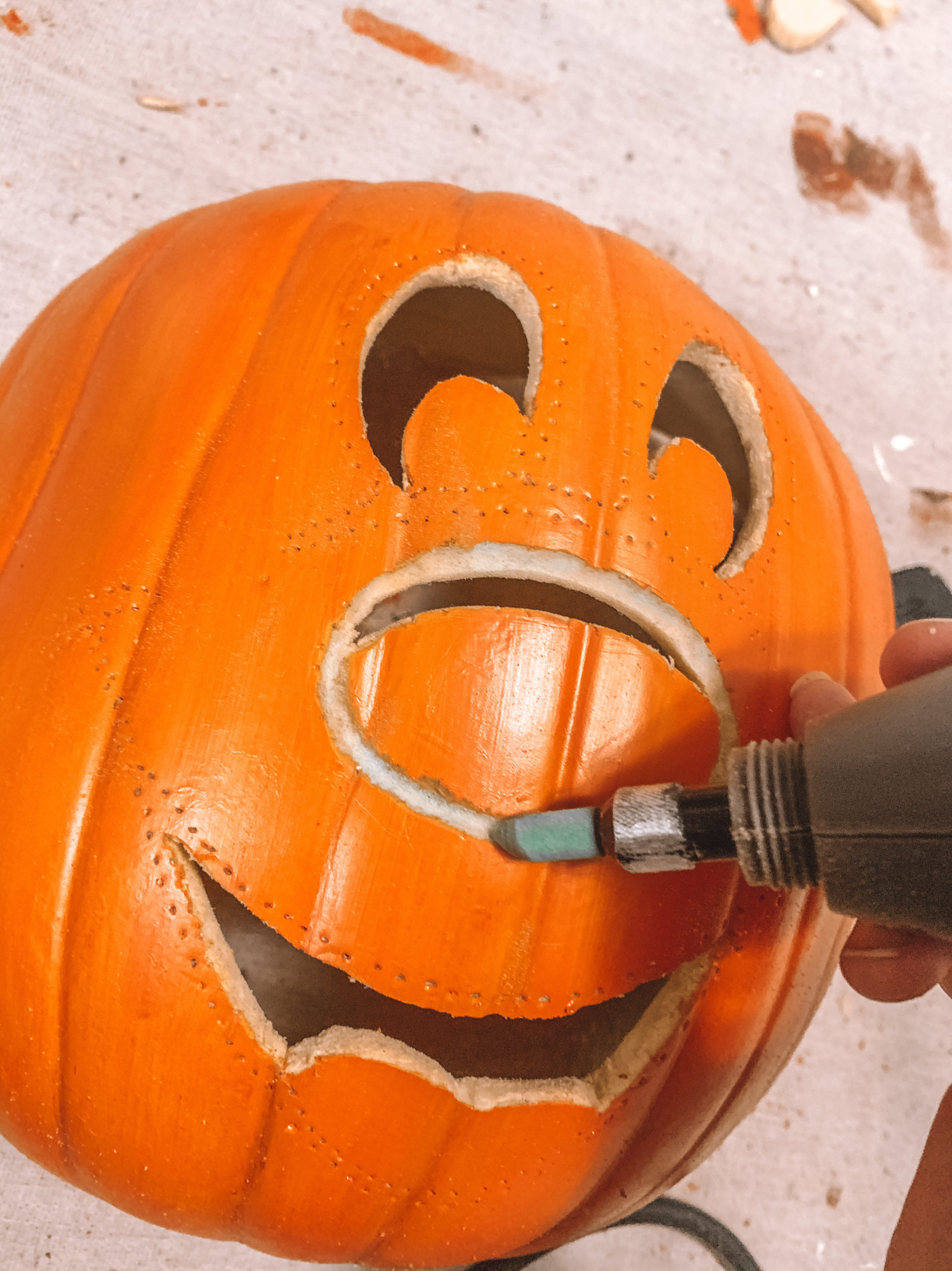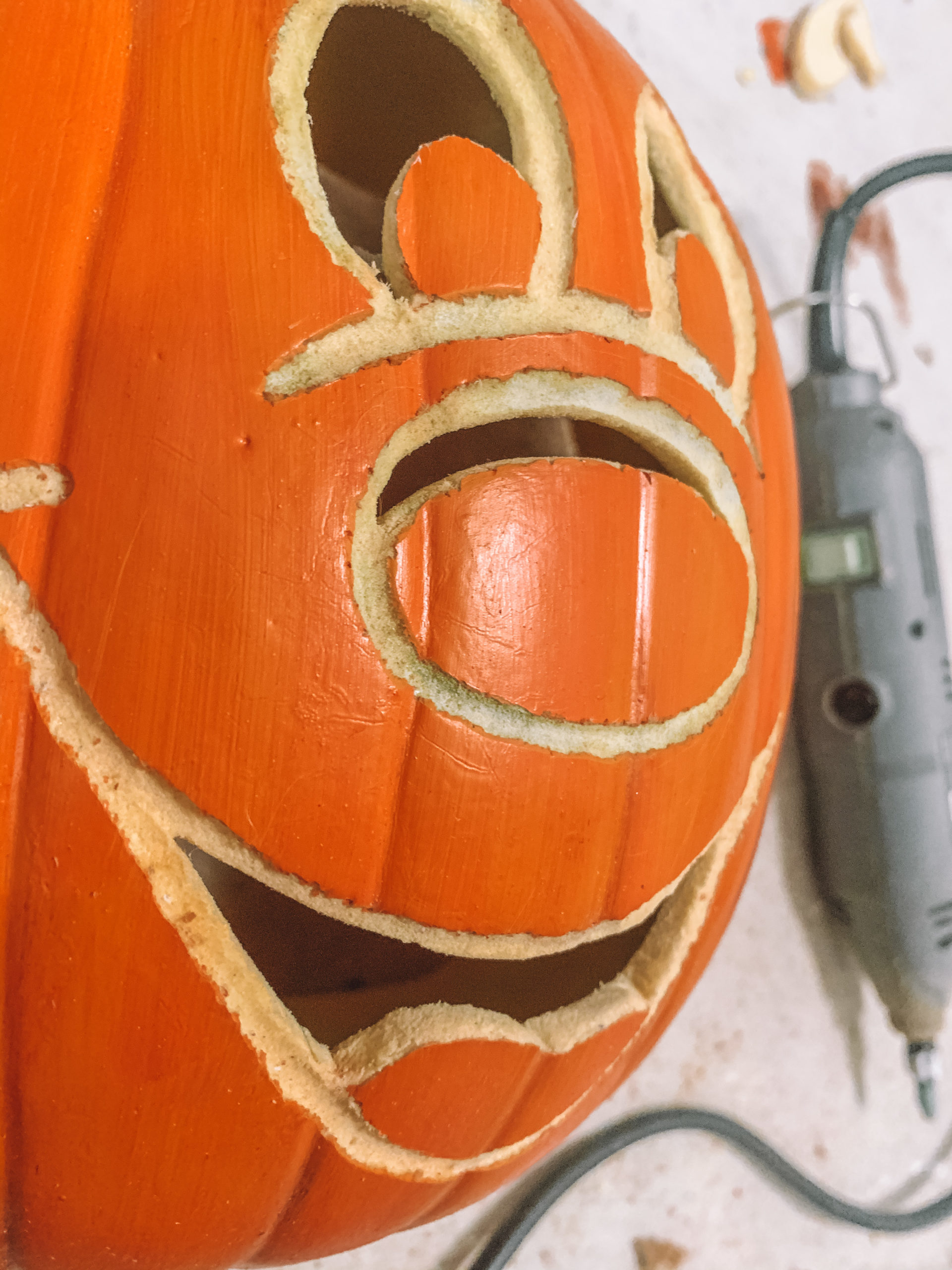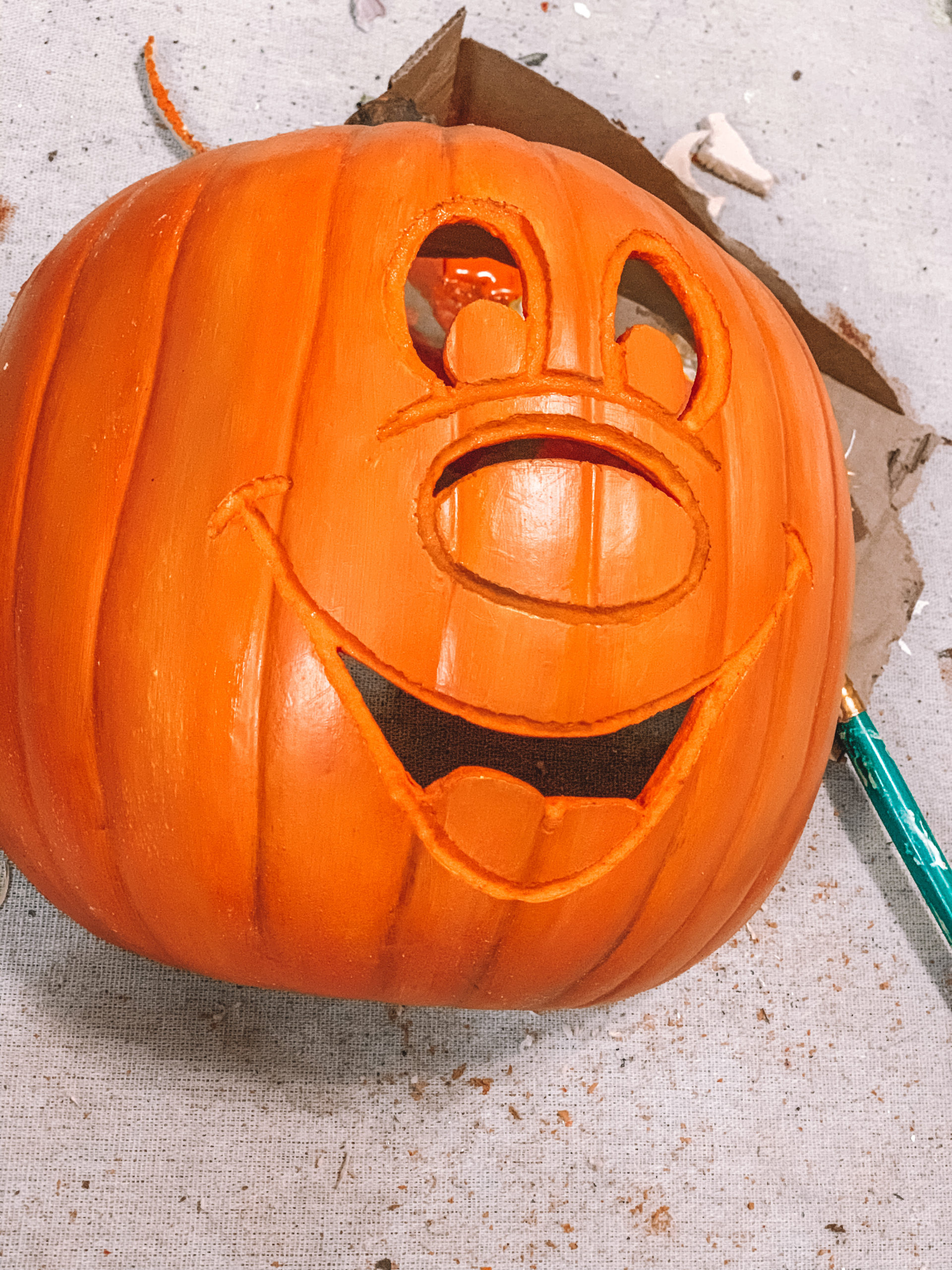 If you decide to go through with the dremeling, when finished you'll want to paint the exposed foam with orange paint that matches the rest of the pumpkin. Be sure to paint all the exposed foam you see.
Part 2: The Ears
Now we want to put our focus to the ears. You'll want those 5″ half sphere's, or if you got a whole sphere you'll have to cut it in half. I carved a bit into the center of the flat end, then sanded it out to create a smooth and subtle concave. Next step was to measure out where the ears would lay on the pumpkin and cut off the excess (this part is kinda hard to describe so look to the images for a better idea). I skipped this step at first so I wasn't able to cut off the entire excess because of the plaster (see below) so Do as I Say, Not as I Do, lol.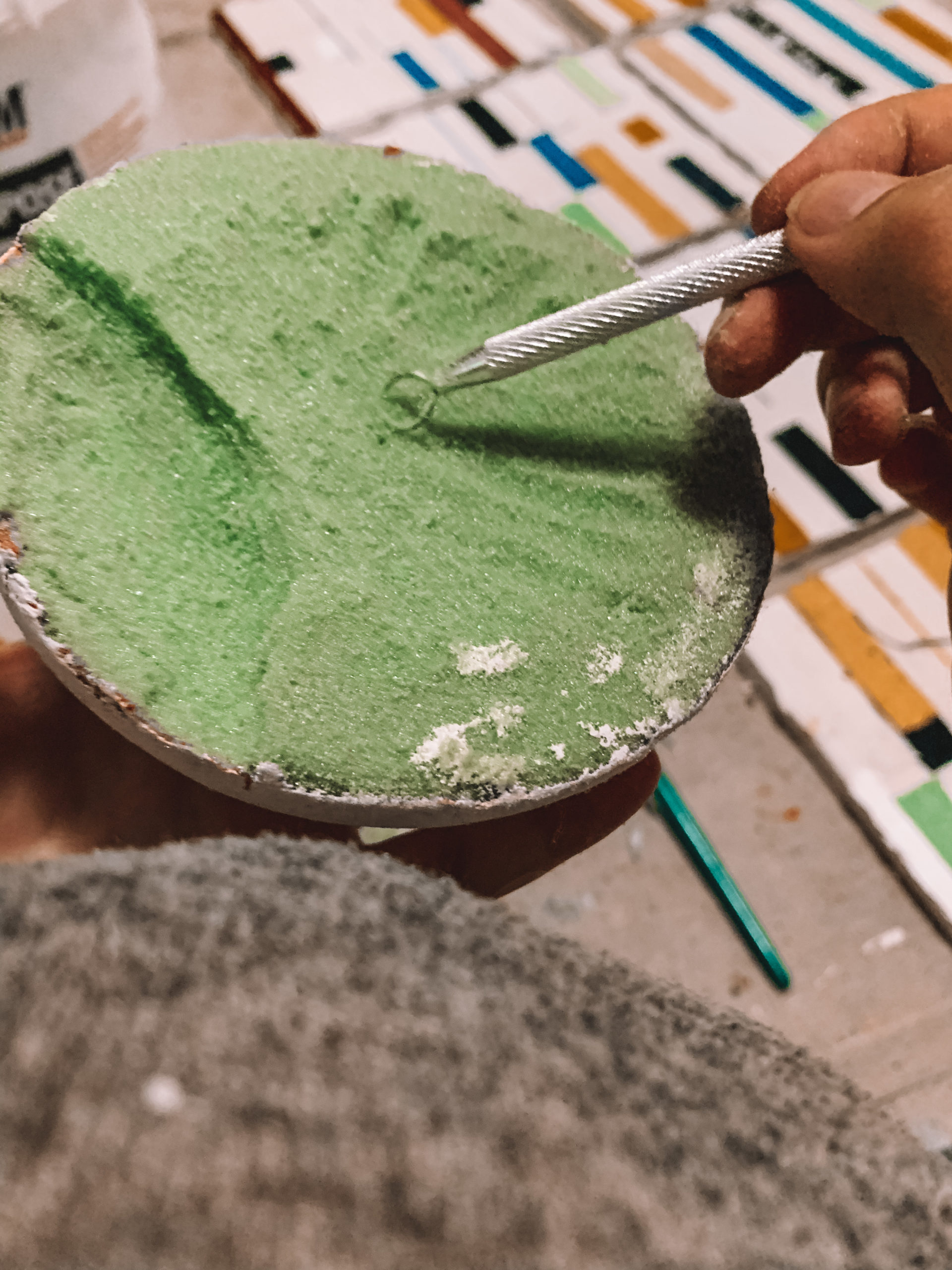 I put a layer of plaster over them before painting, but if you went with orange foam sheet you'll have one less step to do (you'll just have to glue the foam onto the half spheres. I've read some people say not to use hot glue as it dissolves the foam, but I've also seen some people use hot glue without problem. I was out of hot glue so I couldn't test it out, so move with caution if you decide to use hot glue).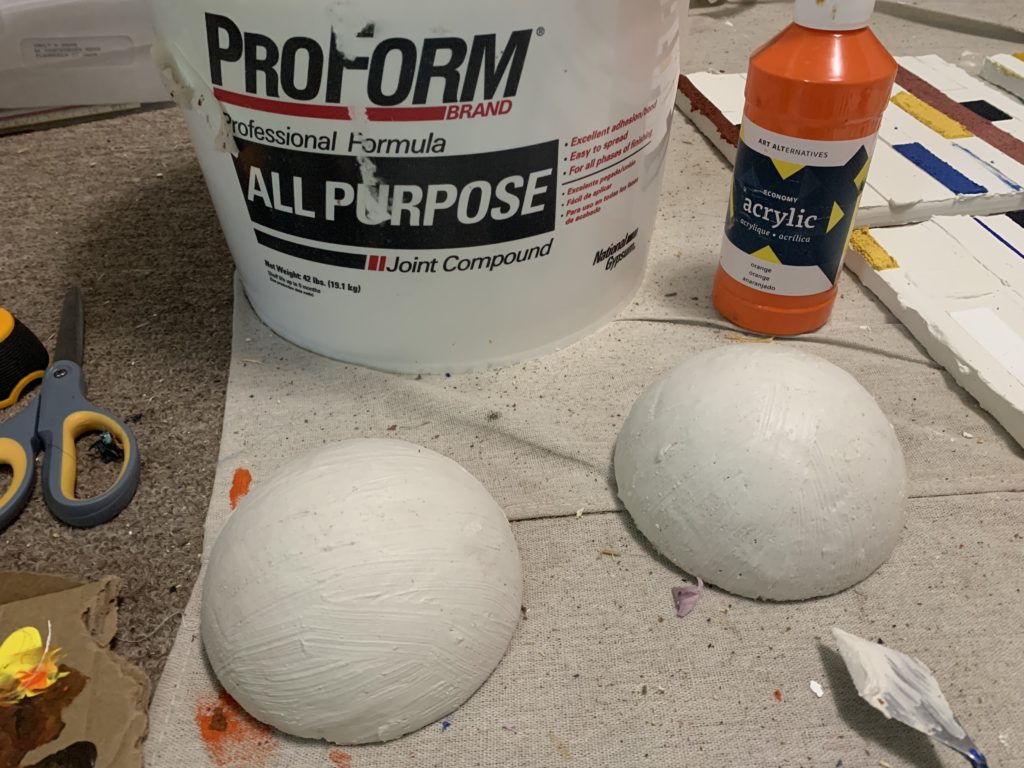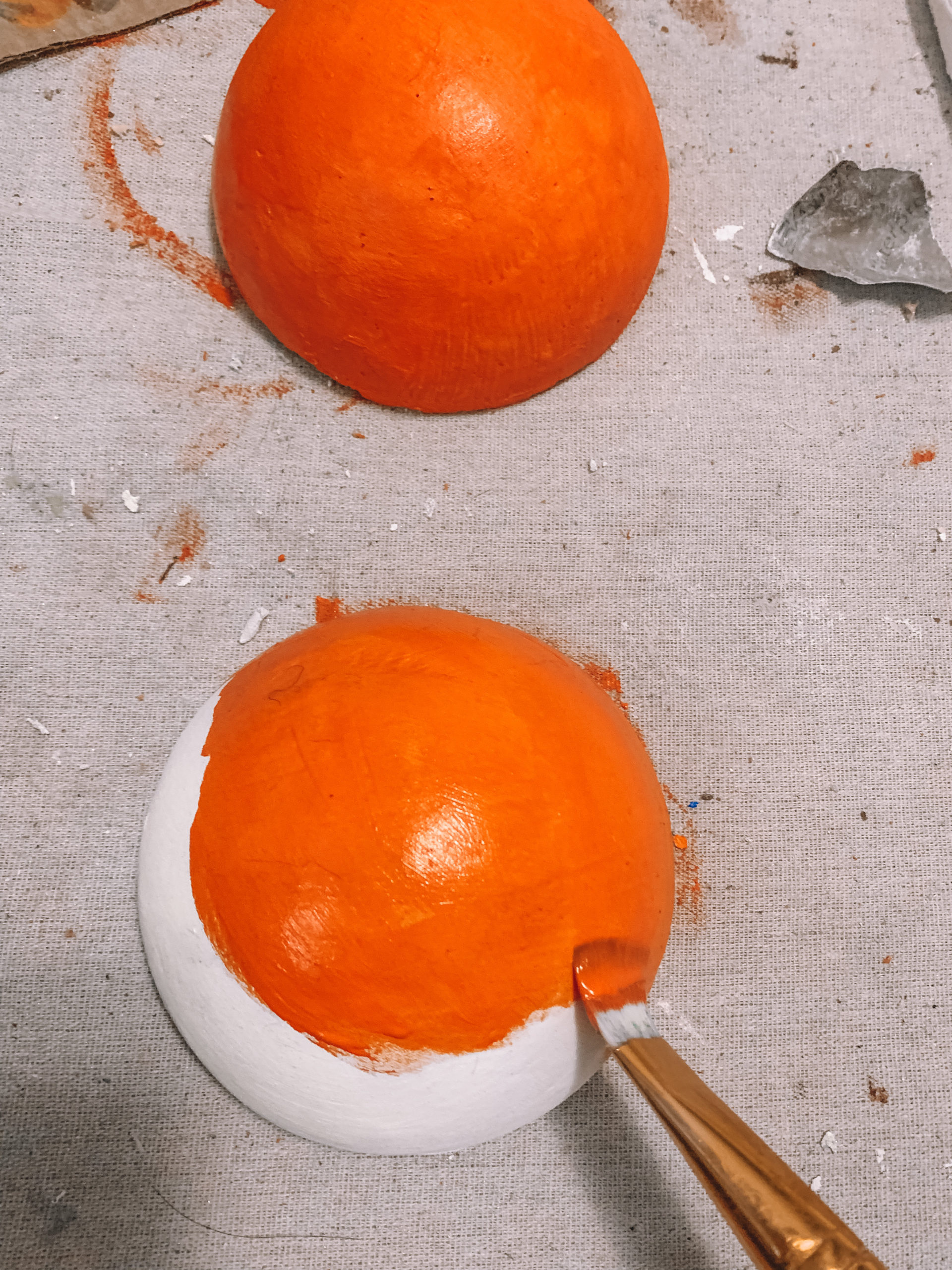 I also used some cadmium yellow on the inside of the ears to enhance the concave shadowing.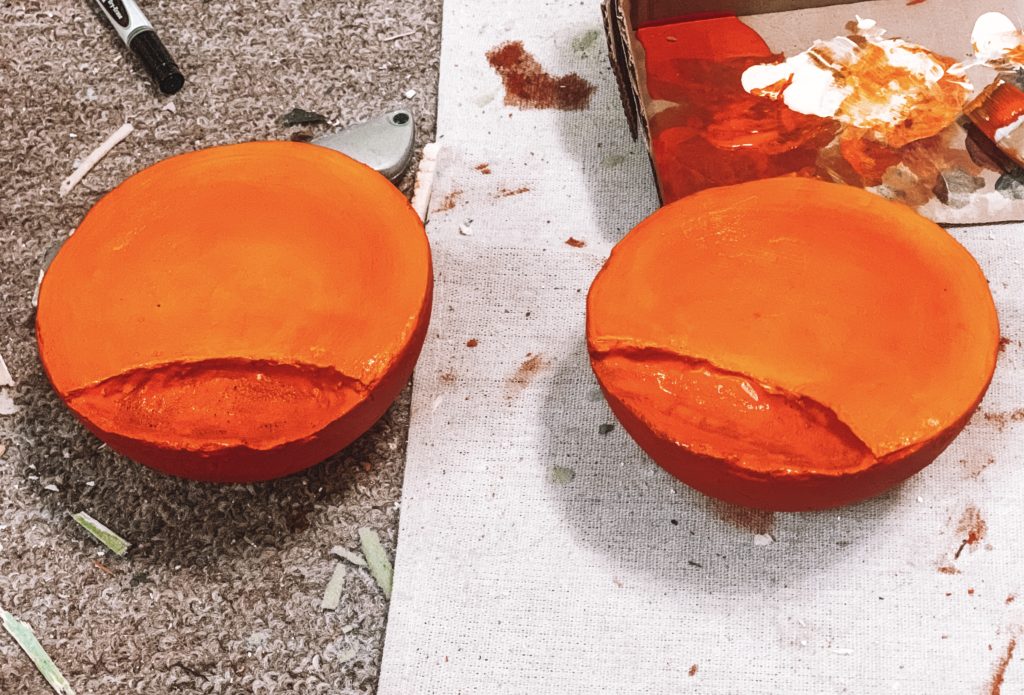 Part 3: The Face
This was one of the hardest sections to do, but it was also the fastest. Using the template I cut the yellow sections out of glassine (you can follow the same steps using yellow foam sheet), making sure I left plenty of space around the edges to glue the pieces down. I then lightly painted the pieces yellow, to give a tint when the tea light shines through. Then glue and let dry!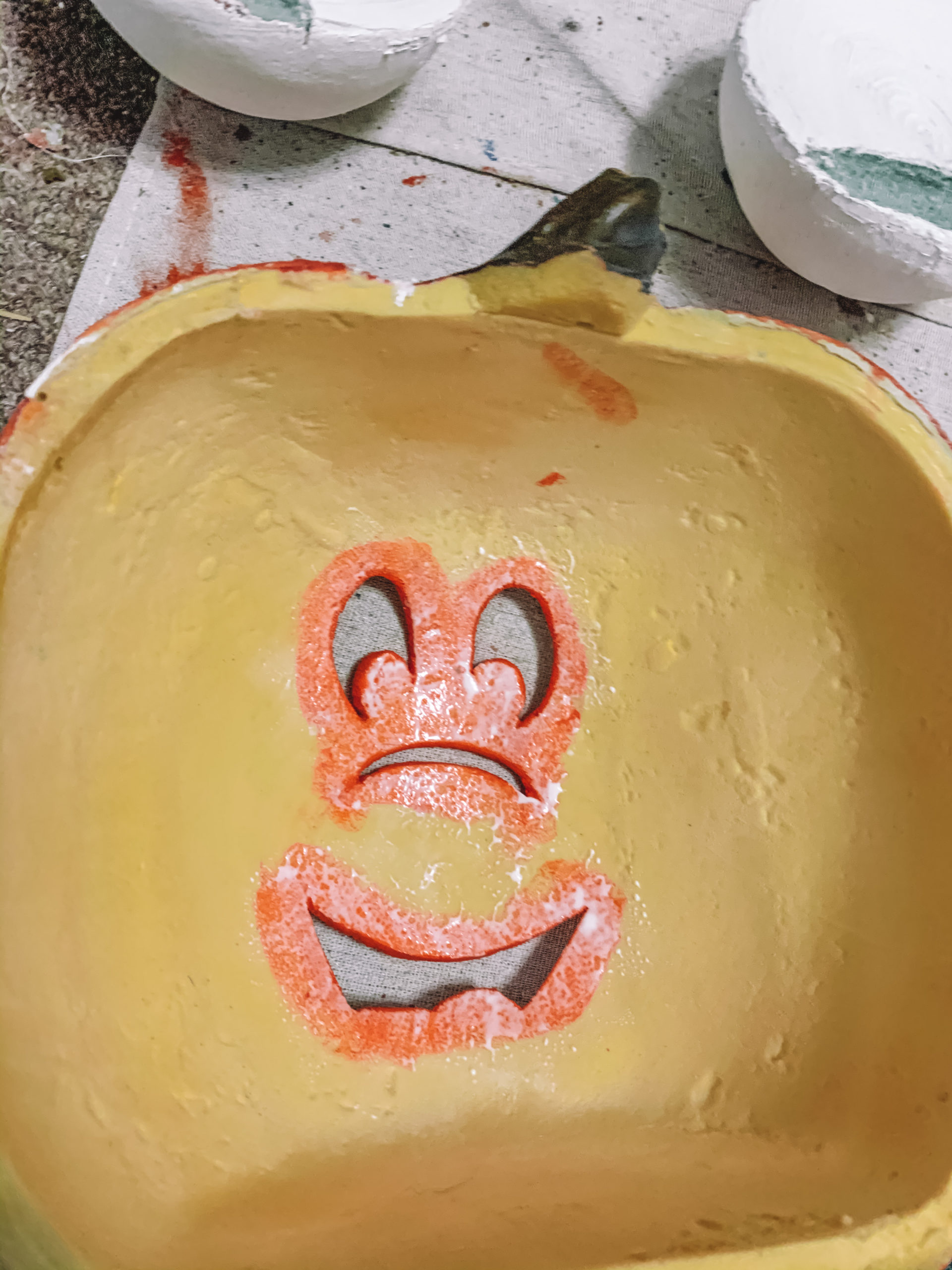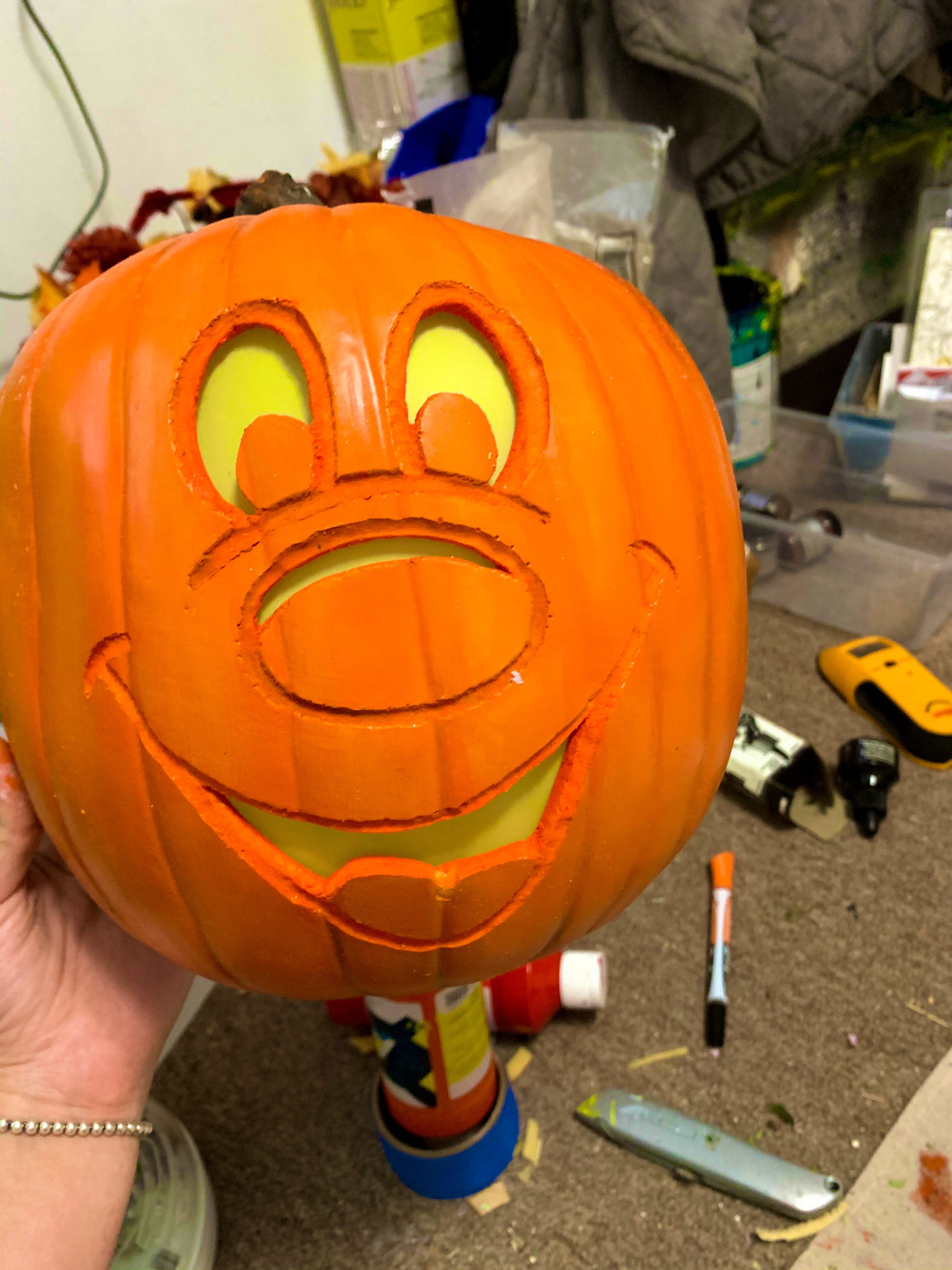 You can see below I tested it out with the tea light and it looks amazing!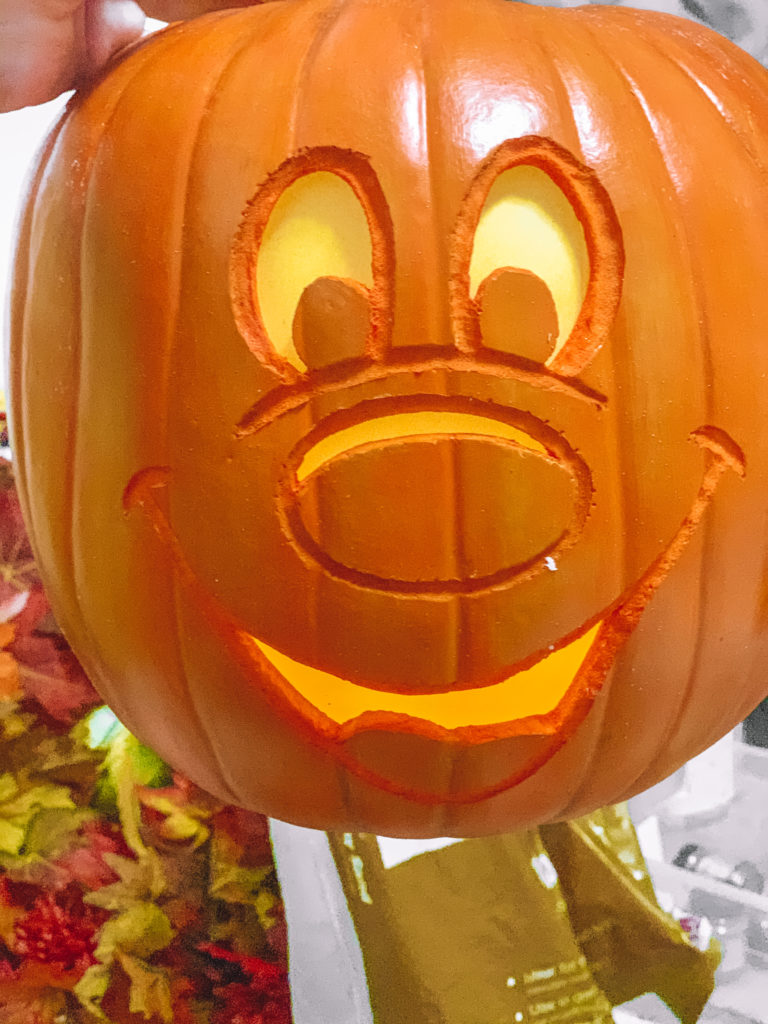 Part 4: Put it all together
Now it's time to put everything together! Fingers crossed!
I started with glueing the ears. I put Elmer's glue on the back edge of the pumpkin and on the ears. Now all you can do is wait. And wait. And wait…
And wait a little more just to be safe…
And they're on there!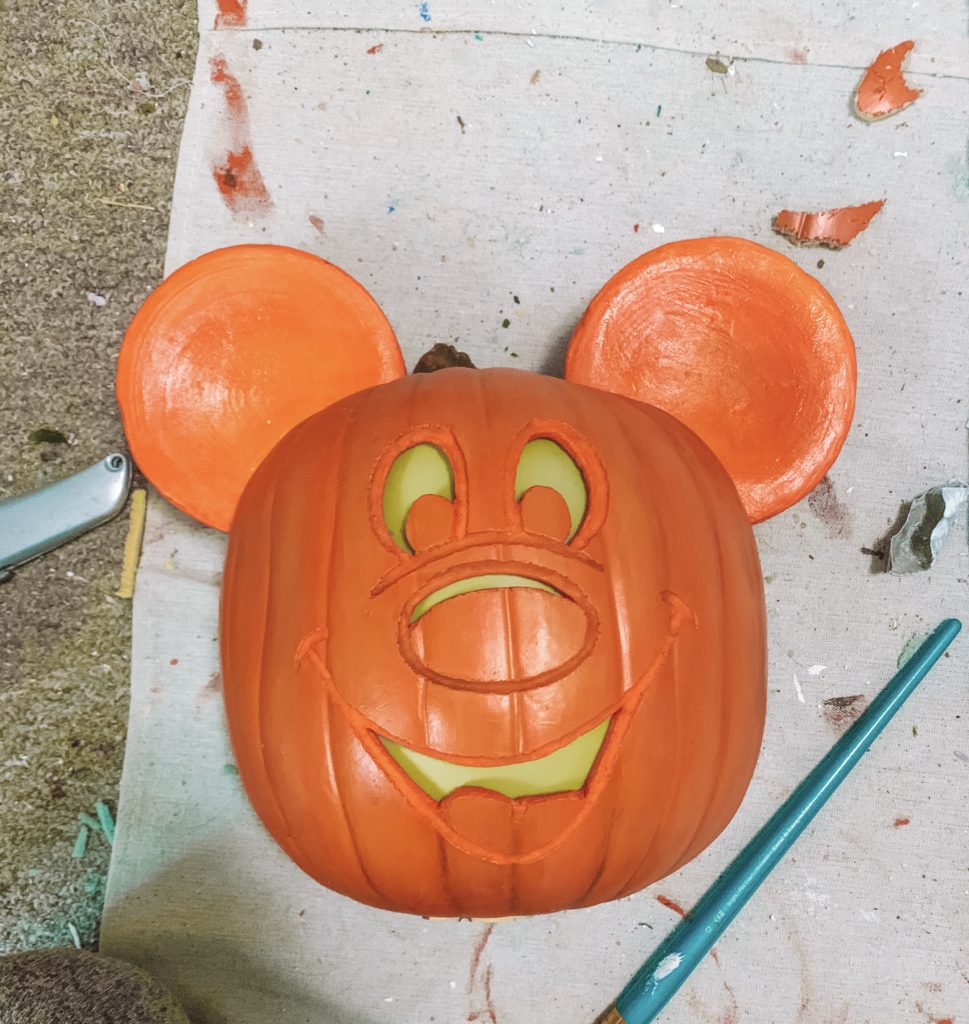 Now we just have to attach Mickey to his wreath. I poked two holes through the back of the pumpkin; one at the stem, and one at the bottom. Grab your wire (it doesn't have to be beefy wire, the pumpkin is fairly light) and insert into the top hole and wrap the wire around the wreath to hold it in place. Do the same at the bottom hole.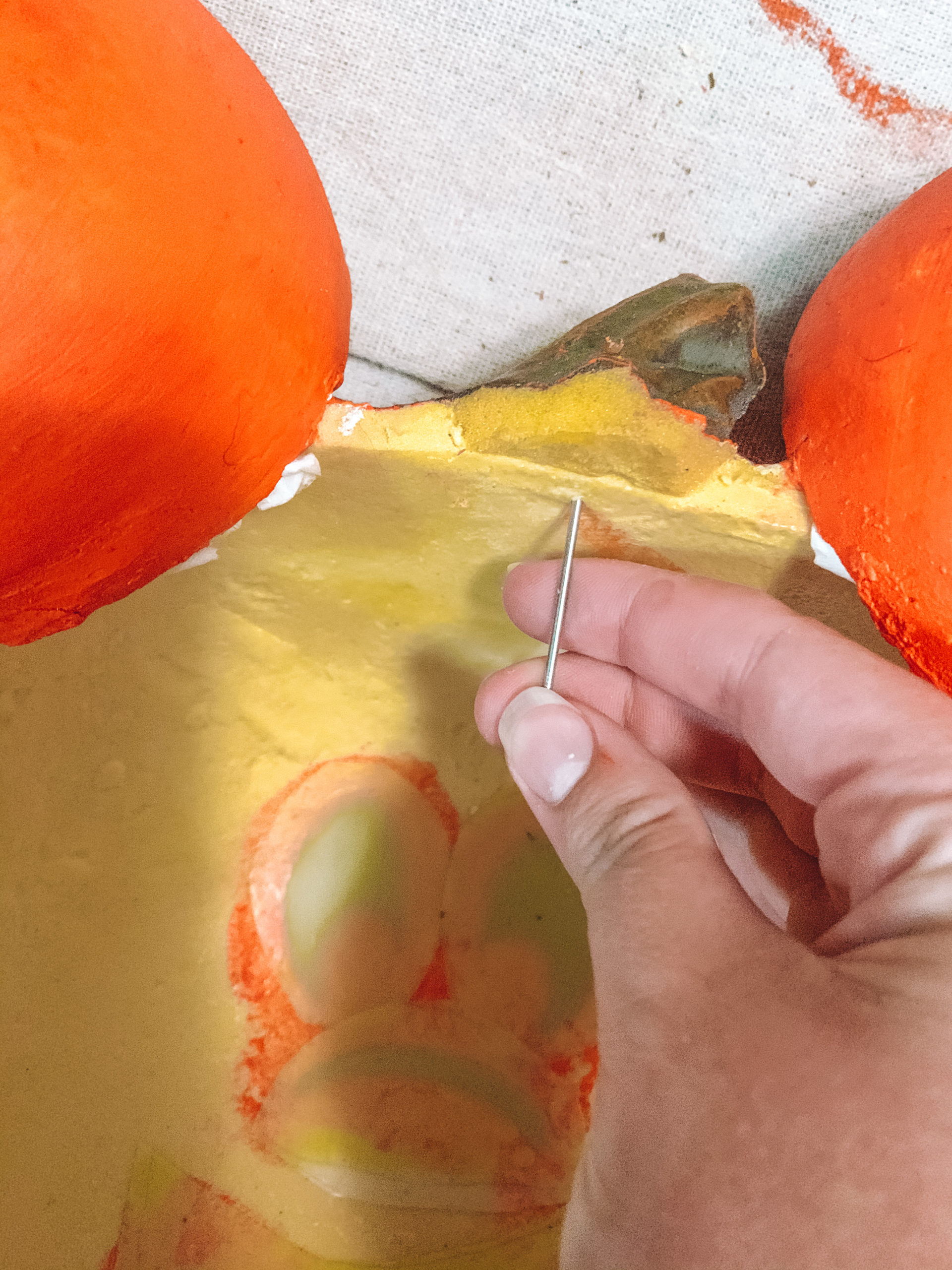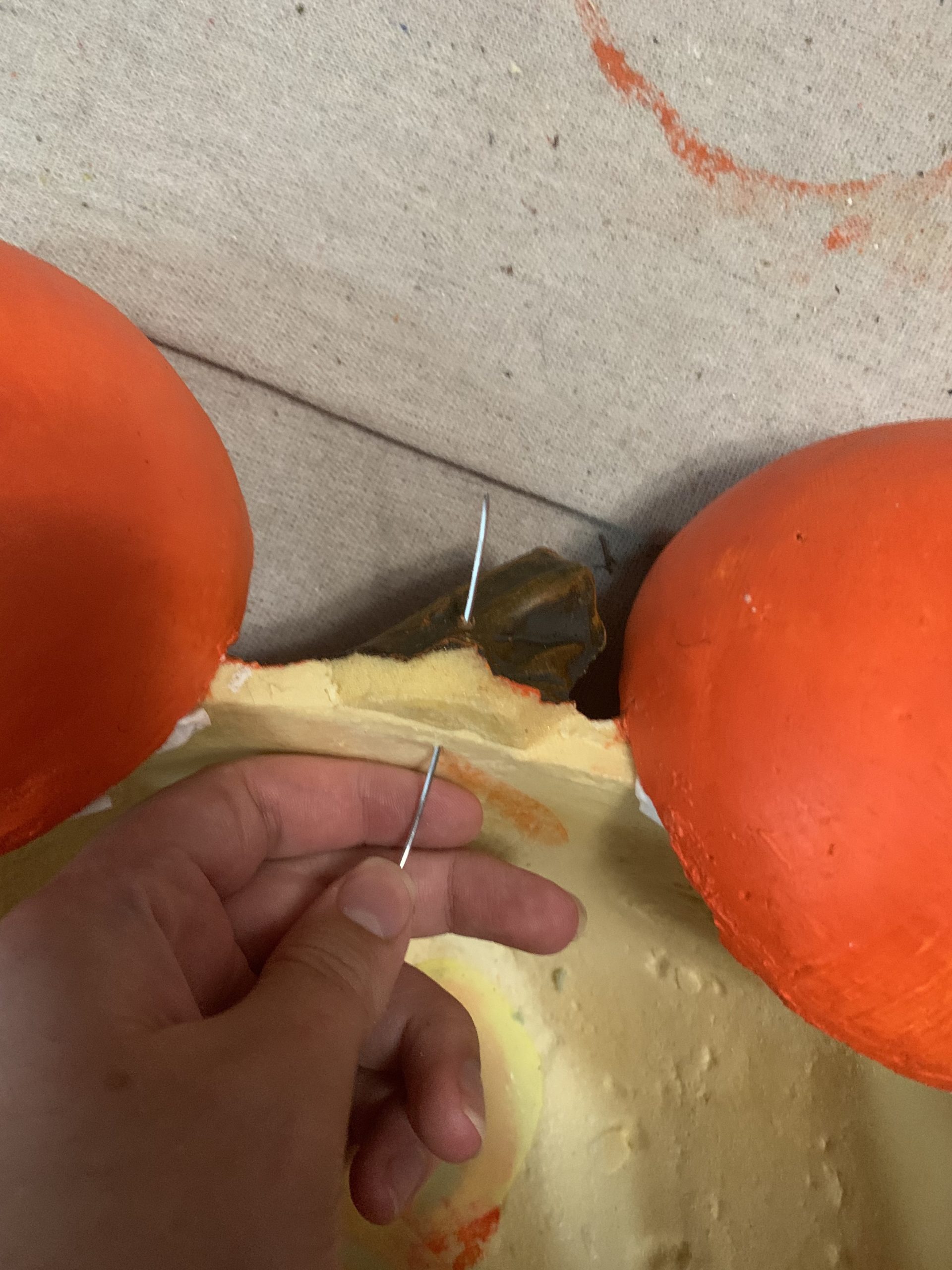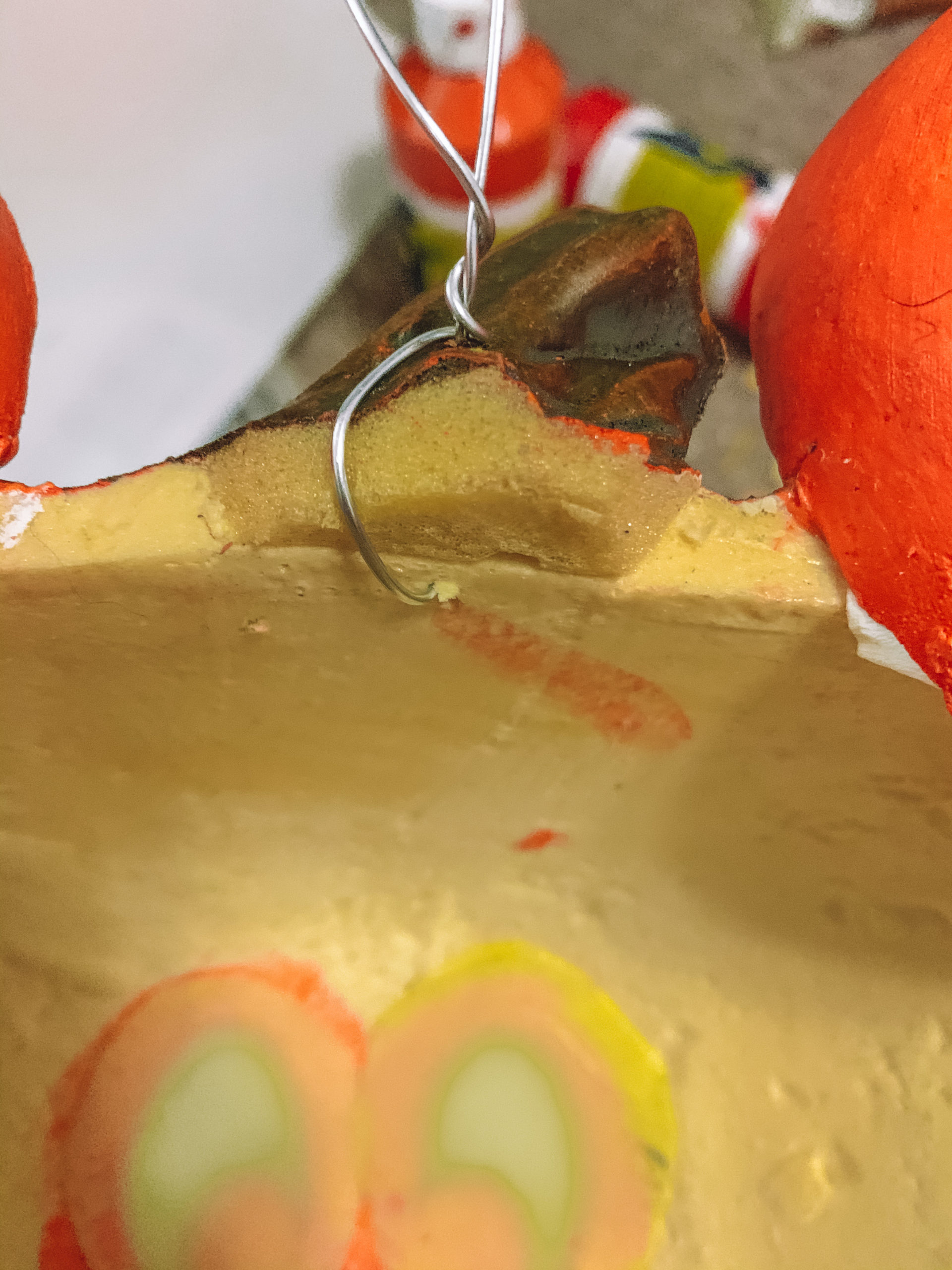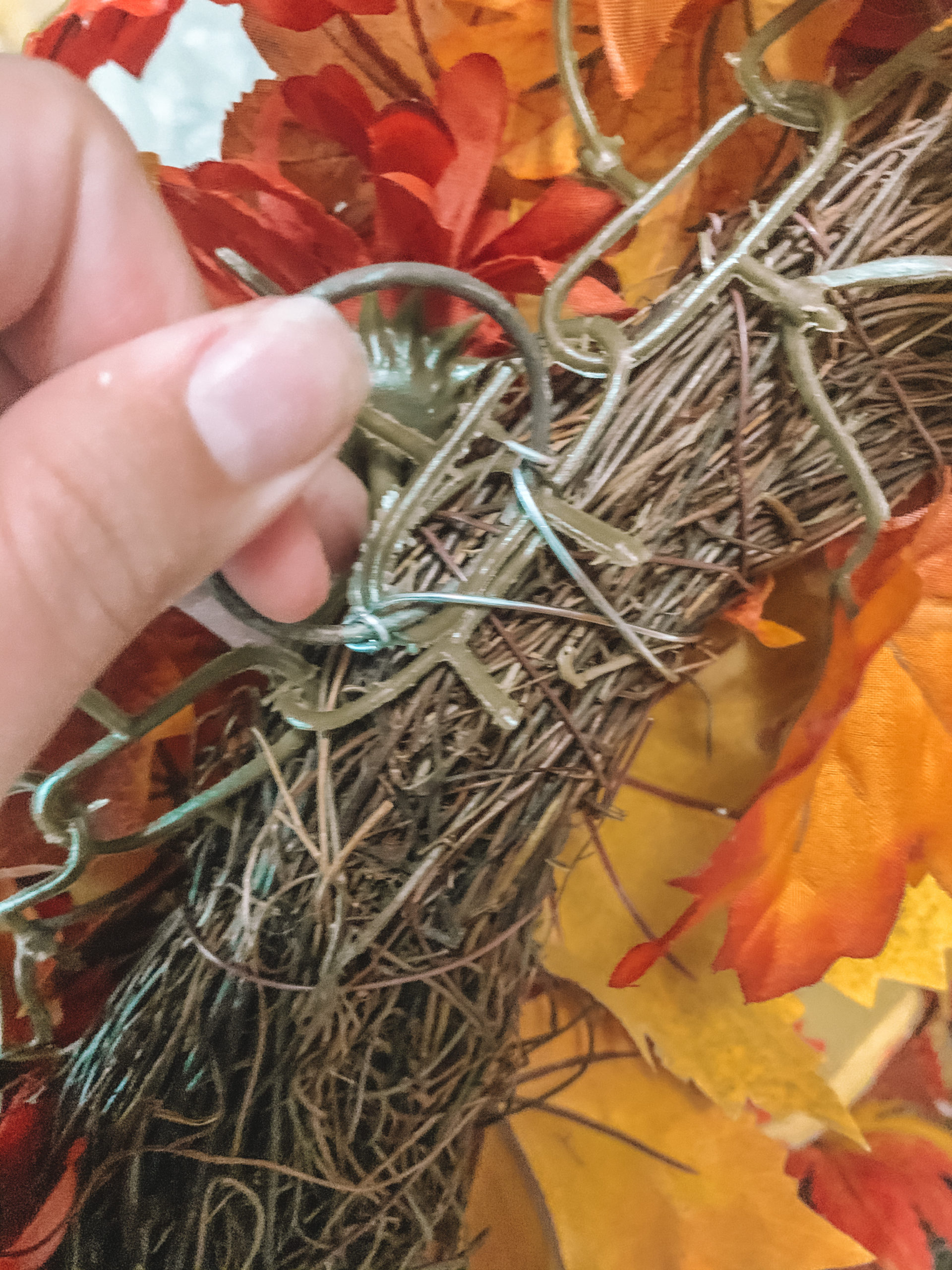 And you're done! Insert your tea light if you're using one, hang the wreath up and enjoy!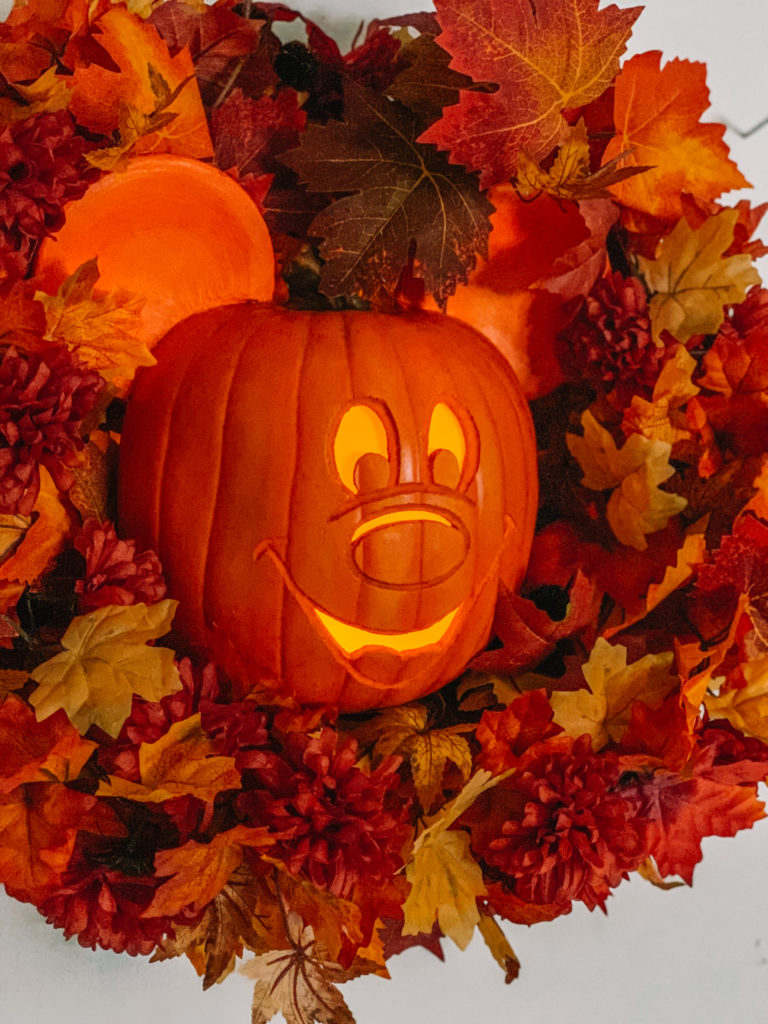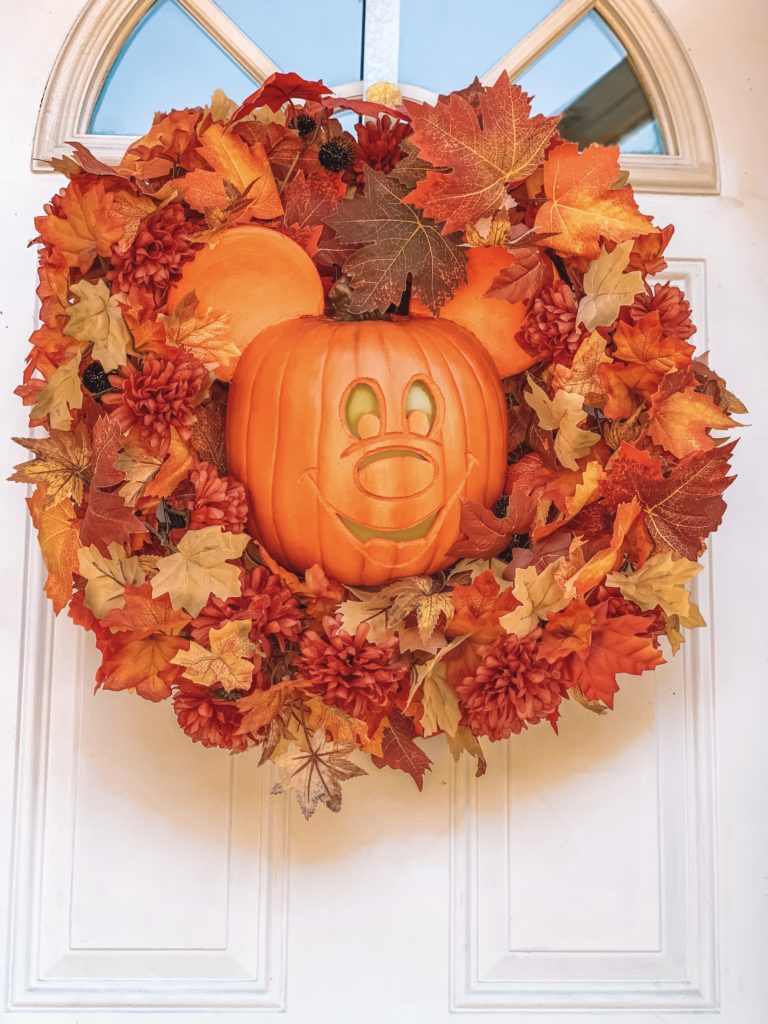 I hope you enjoyed this DIY as much as I did! Let me know if you have any questions!
– Emily 🙂